Leh (3505 m / Approx. population: 30,000), the capital of Ladakh is a veritable kaleidoscope of sights and sounds. A quaint town nestling along the rugged slopes of the Ladakh range, it cradles a cultural legacy shaped at the crossroads of Asia on the Sub-continental Silk Route. For long a bustling crossroads of the migration & trade routes, Leh town is by itself a sightseeing attraction. It has many historic monuments, including the 17th century Leh Palace built by King Singe Namgyal on the hill overlooking the town. Higher up the hill called Namyal Tsemo, are the ruins of the earliest fort dating from 16th century which also houses the equally old Tsemo Gompa. Below, in the bazaar, the main sites to be noted are the 17th century Jama Mosque and newly built Jo-Khang Vihara.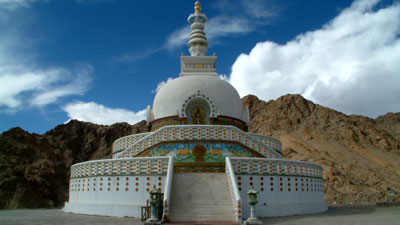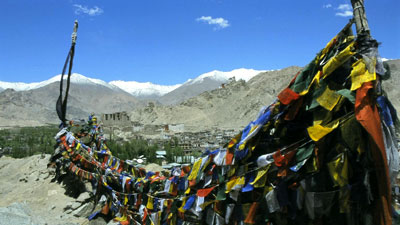 Reaching Leh
Air Travel - Leh is well connected to New Delhi by a one-hour flight. Air India, Jet Airways & Go Air operate regular flights on this route. Some of these airlines also operate shuttle flights on Leh-Srinagar and on the Leh-Jammu sectors.
Road Journey from Kashmir -
The Srinagar-Leh National Highway is the main overland approach to Ladakh from Kashmir. This 434-km long highway broadly follows the historic trade route between Ladakh & Kashmir. It runs across the
Zoji-La Pass
(11,500-ft./3,505 m), in the Zanskar range of the Great Himalayas, which generally opens for vehicular regular traffic by mid-April / early May.
Drass
, the first township over the pass, inhabited by a population of mainly Dard origin, has the reputation of being the second coldest inhabited place in the world.
Kargil
, the second largest town of Ladakh and headquarters of Kargil district, is a major overnight transit station on this road.
On leaving Kargil, the road passes through the valleys of Pashkyum and oin to Mulbek where you will be able to admire the gigantic rock carving of Maitreya Buddha, dating to the 7th or 8th Century. Two more passes, Namika-la (12,200 ft/3,719 m) and Fotu-la (13,432 ft/4,094 m), follow the exit from Mulbek valley. From Fotu-1a , the road descends in sweeps and turns, past the spectacularly sited monastery of Lamayuru and the wind-eroded "Moonland" hills down to the Indus at Khalatse . From here the road follows the river all the way to Leh.
Road Journey from Manali - The Manali- Leh Road (473 km) is open from late May through September. For much of its length it passes through barren areas entirely devoid of any settled habitation. The first major pass in this road, the Rohtang pass (13,000 ft/3,978m), cuts through the Pir Panjal range and connects Lahoul. Beyond Keylang, headquarter of Lahoul district, the road follows the Bhaga River up towards its source. Leaving the Bhaga Valley, it ascends and crosses the Baralacha-la (16,050 ft/ 4,892m) in the Great Himalayan Range, the watershed between the Indus and the Chenab River systems.
The Zanskar Range, which lies next on this road, is crossed through two more passes, the Lachulung-la (16,600 ft/ 5,059m) and the Taglang-la (17,469 ft/5,325rn). Between these two, there is nothing but rock and sand, rolling hills and broad plains. In this area, seasonal camps are set up at Serchu & Pang at various points along the road to provide basic transit services to travelers. From Taglang-la, the descent to the Indus starts. First it follows the Gya River down to Upshi , and then the Indus all the way to Leh, passing the villages of Karu, Stakna, Thikse, Shey & Choglamsar en-route before entering the town.
Climate -
The climatic conditions of Ladakh are mainly dry with little or no rainfall. Summer temperatures may occasionally but briefly touch 30 C while in winter they may even plunge to -20 C degrees Celsius. During the winter, most parts of Ladakh are snow bound and all the land approaches out of the region are closed.
Acclimation
If you are traveling by air to Leh, you must allow at least one day of complete rest for adjustment to the high altitude and low level of atmospheric oxygen. High altitude sickness or Acute Mountain Sickness (AMS) is a risky condition faced by visitors who do not allow sufficient time for adjustment of the body to the altitude and rarefied air of Ladakh. These can be contracted by anyone not sufficiently acclimatized to the altitude
The most common symptoms of Acute Mountain Sickness (AMS) are: breathlessness; coughing, disturbed sleep, headache, inability to concentrate; lassitude, loss of appetite, nausea etc.
Remember: You might feel 'normal' upon landing at the Leh airport and even for some time thereafter. But that's a false impression as the effect of altitude and low oxygen level hits slowly. It is important that you do not exert yourself on the very first day, as your body needs time to acclimatize itself.
Things to do:
Take complete rest at least for a day after arrival.
Move about slowly and breathe deeply till the body get used to the lower oxygen level.
When trekking, do not permit your trekking guide to go any faster than you (and your group) can comfortably move.
Things to Avoid at high altitude:
Respiratory depression (slowing down of breathing) which may be a problem at altitude, can be caused by the following medications, and should never be used by someone who has symptoms of altitude illness:-

Alcohol
Sleeping pills.
Narcotic pain medications in more than modest doses.
Medication: It's generally suggested to take Diamox (Acetazolamide), 125-250 mg (depending on body weight; persons over 100 kg may take the higher dose) twice a day at least 24 hour before ascent to the high altitude and discontinuing after the second or third night at the maximum altitude (or with descent if that occurs earlier). Children may take 2.5 mg/kg of body weight twice a day. But do remember to consult your doctor and confirm if you can take diuretic medicines like Diamox or Disprin.
Inner line Permits - For visiting Khardungla, Nubra Valley, Pangong and Tsomo-riri Lakes and the Dah-Hanu area of Leh District, it is mandatory to obtain Protected Area / Restricted Area permit from the office of the Deputy Commissioner, Leh. These permits are to be routed through a Registered Travel Agency. For Diplomatic personnel, such permits are issued by the Ministry of External Affairs, Govt. of India.
Banks & ATM - State Bank of India, Jammu & Kashmir Bank, Punjab National Bank, Axis Bank, HDFC Bank & Central Bank of India have their branches in Leh. These banks also have their ATM outlets in different parts of the city centre.
Mobile Phone Service - Mobile phones with post-paid connection of BSNL are operational in most parts of Ladakh region. In Leh Town area postpaid connections of Airtel, Aircle & Vodafone Networks also work. Please note that prepaid mobile connections do not function in Ladakh.
Healthcare & Hospitals - SNM Hospital is the main civil hospital in Leh and is fully equipped to provide all kinds of emergency medical assistance to visitors. Additionally, the Army's General Hospital at Leh also extends its superior facilities to the tourists in emergencies.
Shopping: Leh offers a range of products for visitors to buy as souvenirs. These include pure Pashmina Shawls, local ethnic dresses, woodcarving products such as low tea tables, dragon paintings, thangka scrolls, masks, prayer wheels and other cultural ritual objects & etc. Other items of interest are dry apricots (specialty of the region), fresh apricot jams, apricot oil etc.